Prachi Jain Windlass, Board Member, Bharat EdTech Initiative and Senior Director, India, Michael & Susan Dell Foundation, spoke to Rusen Kumar of India CSR about Bharat EdTech Initiative's vision and journey so far. Excerpts:
What is the vision of Bharat EdTech Initiative and why is it relevant in today's times and age?
Bharat EdTech Initiative (EIB) aims to enable access to EdTech at home to improve learning outcomes for one million students by 2025. By addressing multiple barriers such as awareness, access and engagement , BEI strives to bridge the learning gap through efficient and equitable EdTech access, especially for students. from low-income households.
The EdTech industry has grown exponentially in recent years. The Indian EdTech industry is estimated to have received $16.1 billion in venture capital funding in 2020 alone. This is a 32x increase from the 500 million received in 2010. And, over the next decade, the market size is expected to reach $30 billion.
During the lockdown, the growth of EdTech has certainly created various positive changes in terms of children's digital literacy, direct parent-teacher connection, and evolving solutions. But it was not accessible to all children. Educational technology has had a limited impact on children from disadvantaged families for a variety of reasons.Database Crunch). In 2020, over 90% of these funds went to players serving higher income segments with annual subscription fees of INR 30-40,000.
Lack of information: Students and parents have limited information to choose from the multitude of EdTech solutions available on the market.
Along with problems accessing EdTech, students have also struggled with learning losses. A Azim Premji University A study, January 2021, of more than 16,000 children in five Class II-VI states found that 92% of children had lost at least one specific language skill in the previous year, and 82% had lost at least one mathematical ability.
These setbacks pushed students months behind in their studies. In particular, students from low-income households. And, BEI is on a mission to help them overcome these learning losses with very clear objectives. First, improve student learning outcomes through EdTech at home. Second, accumulate evidence and share knowledge with CSR to support EdTech-based solutions to achieve impact at scale. Third, enable EdTech companies to directly address and effectively serve this target segment.
How do partner organizations support BEI to achieve this vision? Also, how many partners are there?
The Bharat EdTech initiative is a collaboration of 36 partner organizations among NGOs, philanthropy, EdTech companies, and research and evaluation agencies. We believe the key to impact at scale is partnering with the right people and organizations. Our nonprofit and EdTech partners, for example, work in sync to further this mission. Non-profit partners access and connect to communities across India. EdTech partners have the potential to empower students in these same communities with the right educational solutions.
Additionally, an integrated management and delivery system oversees this national initiative, which is led by four main organizations – Sattva Consulting is the lead program management partner for the initiative. The Michael & Susan Dell Foundation and the British Asian Trust are the main donors. GiveIndia leads fundraising and fund management. We also have a Advisory Board with members from a variety of industries with extensive experience in the nonprofit, education, and EdTech space offering one-on-one advice. The board includes Akshay Saxena, co-founder of Avanti Fellows; Imran Jafar, Managing Partner, Gaja Capital; Ramesh Srinivasan, Senior Partner, Mckinsey and Safeena Hussain, Founder and CEO, Educate Girls.
How does BEI ensure equitable and efficient access to digital learning for students? How many students benefit from it?
BEI relies on proven EdTech solutions to ensure disadvantaged students have access to online learning whenever and wherever they want. Through these curated EdTech solutions, we leverage home learning time for these students.
A key feature of the BEI initiative is to ensure continued student engagement, which results in improved learning outcomes. This is achieved through 1:1 calls with students and parents, in-person sessions, community activities, IVR WhatsApp messages, motivational videos and online groups.
Currently, 120,000 students are learning online on our partners' EdTech platforms in the language of their choice: Bengali, English, Gujarati, Hindi, Kannada, Marathi, Odia, Telugu and Urdu. These students range in age from 9 to 17, study in grades 1 to 12, and come from low-income communities in urban and rural Rajasthan, Maharashtra, Gujarat, Himachal Pradesh, Delhi, Karnataka, from Bihar, Haryana, Uttar Pradesh and Madhya Pradesh. Among the students welcomed, 46% of them are girls.
Students will return to school this year after a 2-year hiatus. What can be done to address learning losses?
Millions of students have been impacted by school closures due to the COVID 19 pandemic. Now, as they return to school, students and teachers need all the support to cover this loss of learning. At the same time, regular engagements for students and their provision of tools such as EdTech platforms to supplement school education are essential to ensure that students can learn anytime and anywhere, without interruption. BEI strives to provide Support students so that the learning loss of the past two years can be made up for as painlessly as possible.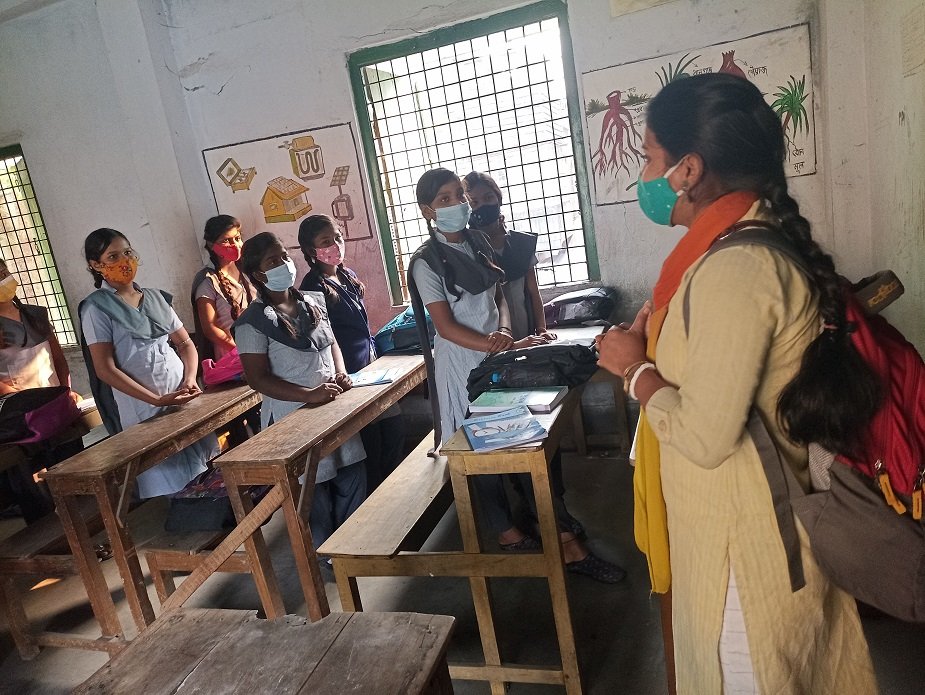 How does BEI ensure they have access to quality learning materials and devices to learn?
With the support of our EdTech and non-profit partners, we are able to ensure that students who enroll in Bharat EdTech Initiative have access to vernacular and curriculum-relevant solutions and motivational support and getting started to continue using these solutions.
Through constant engagement in person and online, our nonprofit partners ensure that students and parents have answers to the challenges they face while learning.
Given the significant digital divide in India, BEI is also conducting a pilot project to study the effect of dedicated learning devices on student engagement. The pilot is currently underway with 160 students, who have each received a Lenovo tablet. We are closely monitoring the improvement in student engagement and results with dedicated devices.
How does BEI ensure that online learning aligns with the student's learning abilities and helps the student develop that learning potential?
Bharat EdTech Initiative recognizes that all students are at different levels of learning, even those in the same class. We are committed to providing all students with an engaging learning experience by ensuring that students are not pressured to learn or engage in content they do not understand. This way, we make sure that students only start learning online after completing their basic assessments, which gives us an idea of ​​their level of learning. This information is used to create a personalized learning plan for them.
To keep them engaged while they learn, BEI offers students digital nudges to stay engaged in the learning journey. Our partners also set up weekly interactions with parents and students to solve the problems encountered by the students and design the best study plans for them. These measures ensure that learning is personalized, consistent and engaging.
Once students return to school, how will BEI's efforts complement school learning to help improve learning outcomes?
As schools reopen in April 2022, educators and parents worry about accelerated learning due to the losses of the past two years. Our mission at BEI is to empower parents and teachers to become key influencers for students and support them on their learning journey. With EdTech solutions, we aim to support and enhance student classroom learning and improve overall learning outcomes.
About the author: The author is the publisher, India CSR