IWM's two learning centers (Taube Family Holocaust Learning Center and Clore Learning Center) provide a multifunctional space within the museum exclusively for schools.
Spanning two floors, the WWII Galleries and Holocaust Galleries bring together the stories of real people from diverse communities to examine the complex relationship between the Holocaust and the course and aftermath of the conflict.
At the Taube Family Holocaust Learning Center, IWM's new Holocaust Learning Program helps high school students ask questions about one of the most challenging topics in human history.
This program uses new technology to guide high school students through the galleries of the Holocaust, critically examining why the Holocaust happened, why we still study it, and what it means in our world. today.
"I believe that this learning program is not just about visiting the exhibition. It aims higher and should be part of Holocaust education for students in the UK.

Stage 3 Key Teacher
Produced in consultation with secondary schools across the UK, pupils will have a space to explore these questions by looking at stories and personal items.
Through self-guided and directed study, students receive additional context for the stories they encounter, and the Taube Family Holocaust Learning Center is meant to provide a safe and supportive learning environment that allows for conversation about this difficult topic and its legacy today.
Learn inside the Clore Learning Center
In the Clore Learning Centre, the second of the new centres, IWM's Documentary Challenge session offers elementary and secondary schools a digital experience.
Students develop historical inquiry skills to question, consider, debate and evaluate primary sources, while gaining a deeper understanding of the impact of war and conflict on people's lives in the past and their relevance in today's society.
Which stories are too important to be kept inside the museum? What deserves more attention from the rest of the world? Who is telling the story and why? Students are given smart cameras and tasked with making mini-documentaries about the people and objects they think the world needs to know about.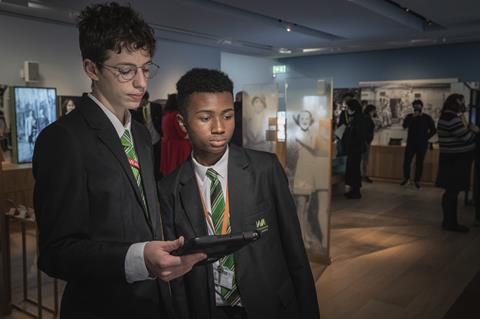 IWM's We Were There: Ask Questions about Conflict session offers a unique chance for primary and secondary schools to meet veterans and eyewitnesses from World War II to today.
In the new Clore Learning Center, students have the opportunity to hear their personal stories, ask questions, and connect through conversations.
This session encourages active exploration of the consequences of war and helps students understand the impact of war and conflict on people's lives, as well as the variety of these experiences.
Through personal stories, question-based learning, and conversations, students have the chance to learn about the people who were there and who were experiencing conflict.
The state-of-the-art learning centers are supported by the National Lottery Heritage Fund, the Clore Duffield Foundation and Taube Philanthropies as part of a six-year transformation project.